Description
⭐⭐⭐⭐⭐
"I have 4 year old twins and these books kept their attention for at least 30 minutes when I brought the books to them. They worked just as described and they were amazed with the disappearing ink and wanted to keep working with the tracing of the letters and numbers. Great purchase!"
– Sneha Rajput, Mother (31)
————————————————————
——————————–
————————————————————
HELP YOUR CHILD LEARN HOW TO WRITE, DRAW AND CALCULATE EASILY WITH FUN !
Automatically fade after 10 minutes of writing, so you can use it again and again ! 

This book helps children and grown-ups learn to write the alphabet and numbers up to 100.
Through constant repetition when writing with this book, connections are formed in the brain which stimulates the learning process.
⭐Over time, your child will develop and refine motor skills that correct hand position and pencil grip, leading to better development of their own unique writing style.
HOW DOES IT WORK?
The Magic Ink disappears automatically after drying, which is ideal for repeated practice. If you want to learn calligraphy, a copybook is a must-have.
⭐  Stimulates the learning process through constant repetition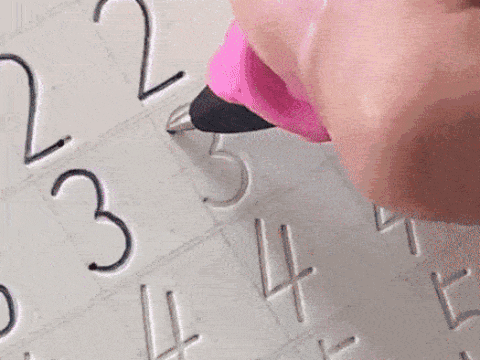 ⭐  Perfect for preschoolers
⭐  Penmanship for children age 3-11 improves
✍ All in English 4Pcs Magic Practice Copybook Set: If you want your children to learn English Calligraphy, numbers, Drawing, Math, a reusable magic practice copybook set is a must-have.
✍ Magical Reusable Function: The Writing Board Tracing Book will automatically fade and can be reused.
Handwriting automatically disappears after drying, great for repeated practice. If you want to learn calligraphy, this Magic Handwriting Book is a must-have.
✍ Standard English Writing Format: Our magic calligraphy book has a three-dimensional groove design and standard English writing format. The cute soft pen holder allows you to hold a comfortable pen for a long time. High-quality paper, strong and durable, comfortable.
✍ Get Beautiful Handwriting: During these activities, kids will use their pencils to follow paths and draw different shapes, so they build their fine motor skills. That will engage their minds and boost their reading and writing comprehension skills, help children to practice different fonts of handwriting, and build their own style.
✍ Great Gift for Kids: Our Reusable Calligraphy Book is made of high-quality thick paper, with a double-sided printing design and loose-leaf fixing method, easy to copy and not easy to fall off. Package includes Alphabet – Number – Math – Drawing book and 1 pen+5 refills+1 pen holder. This Magic Calligraphy Copybook Set is the perfect gift for kids ages 3-7 years old.
Whom Is It For !
⭐ Our books are primarily designed for children and grown-ups aged 2+ who are in the process of learning and struggle with how to read, write, and do math.
⭐ Young children can start scribbling on them to get a feel for writing which will greatly benefit them when they start going to school later on.
⭐ Even adults that are struggling with writing or simply want to improve it and practice calligraphy will certainly benefit from our books as well.
What Are You Paying For ?
More Than 3000+ Happy Customers
We Provide 5 Days Return Policy
 We offer free shipping and free exchanges until you find that perfect One for you. And of course, returns are on us too. If you don't love them, we will take them back and issue a full refund for any product up to 5 days – no questions asked.
Our 24/7 customer service
We provide you our all day and all night customer service so don't worry we are with you
Our 100% Quality Assurance
We offer extraordinary quality that you always wished was designed for your child
100% Customer Satisfaction
Read what our customer have to say about our product 
NOTE: DUE TO HIGH DEMAND THE EXPECTED DELIVERY TIME WILL BE 4 TO 7 WORKING DAYS PAN INDIA