Description
Do You Want To Get Rid Of The Damage Attached Surface?
PASTE EVERYWHERE, GOOD HELPER FOR HOME
Do You Want YourHome Decor Essential To Be Fixed On The Wall?This Double-sidedNANO Adhesive Anti-slip Sticky Tape Suits To Your Every Need.This Item Is Used To Stick Balloons On TheCeiling, Windows, Walls, Cars, Scrapbooking And Handmade Invitations
Please don't make holes in the wall easily and leave unsightly scars😱😱
This Nano Magic Tape can be used wherever you want!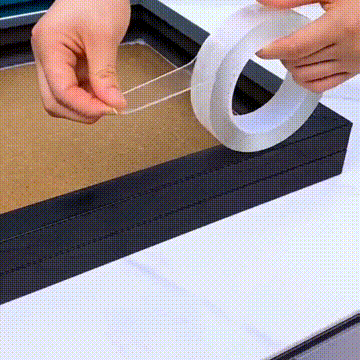 This may be the BEST tape you've used due to its outstanding adhesiveness & great waterproof ability!
Never make any holes in your wall!!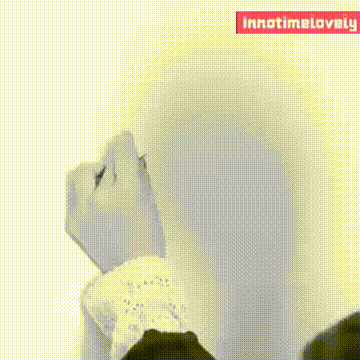 Nano Magic Tape can be fully used in various ways which adopt nanotechnology. It is more convenient than the traditional ways to attach things to the wall, and floor. Besides, This Nano Magic Tape can be washed many times so that it can be reused.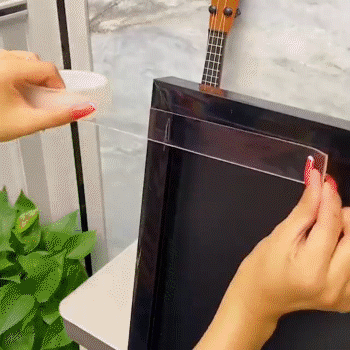 You can adjust the length by cutting it down.
When you take off this tape on the wall, It will leave no residue.?Do no harm to your wall!
Get Creative And Change Your Life With Anti-Slip Gel Tape!
Magic Nano Gel Tape™- The Newest Nano Material Makes It The Best Adhesive Tape Solution On The Market.
Nano Tape is a waterproof adhesive tape with abrasion resistance and varied functionality. Also called Nano Magic Tape, this is hand tearable tape made nano silica gel and can be easily removed for most surfaces while leaving no marks.
Features:-
Portable – The Tape Is Easy To Carry And Use.  The Double Tape Is An Independent Tool. It Doesn't Weigh Much And You Can Control How Much You Use Of It.
 Professional Finish – The Transparency Of This Tape Makes The Sticking Perfect Like A Professional Finish, It Does Not Harm The Look.
Washable And Reusable – When The Tape Gets Dirty You Can Easily Wash Under Water, If The Dirt Is Stickier Then You Can Scrub It Off And Let Your Tape Dry, Ultimately Gaining Back Its Stickiness.
Strong Viscocity – Through New Nano Technology And Adaptable Material, It Holds On Most Surfaces.It Can Hold Up To 1 KG (2.2 LBS) On A Smooth Surface So That You Can Arbitrarily Paste Anything. Sturdy And Durable But Easy To Remove.
---
Benefits
Multi-Functional  – Perfect for kitchen household, industrial use like car mount, poster, picture frame, pen holder, wall sticker, hook, small tools, sticky pads, phone case, patches, decorative patches, wall decor, solar lights, step lights, deck lights, adhesive tape is used in medical field also.
Cut To Your Desired Length – Easily cut to any size and any length you want
Suitable – Can be applied on any clean smooth surfaces like walls, hard floor, window, wardrobe plastics, glasses and more.
USE IN CAR
It Can Be Fixed Things Firmly; You Won't Get Distracted By Picking Things Up Or Others.
You Can Paste The Widget To Decorate Your Car.
---
How to Use?
Step 1 :  Cut the tape according to your need.
Step 2 :  Remove the sticker and stick accessories in it.
---
PACKAGING DETAILS
Materials: Polythene
Size: 10 x 10 x 10 cm/6M
Weight: 400g
Color: Transparent Color
SHIPPING & DELIVERY
All Orders Are Professionally, Prepared, And Dispatched Within 1 to 2 Business Days. We Currently Offering Free Shipping. The Typical Delivery Time Frame is Anywhere From 3-8 Business Days. Depending On Your Location, You Might Receive Items Much Earlier
Tracking Number Will Be Automatically Sent As Soon As The Order is Shipped. Rare Times There Might Be Additional Delays That Are Beyond Our Control Such As Customs Or Postal Delays. Thanks For Understanding!
Frequently Asked Questions
1.   Will it stick to painted wall?
A: Yes.it get easily stick to painted wall.
2. Could I use it to hang shower curtain rod?
A: Yes, nano tape can be used to hang shower curtain rod.
3. Can I use it to stick an address plaque on the siding o my home outdoors?      
A: I would say yes. I used it to hang a decorative piece to my brick house months ago and it hasn't budged.
4. Is Cash on Delivery Available?
A: Yes,  Free Cash on Delivery is always available.